Working efficiently and smarter from order to delivery!
After the world was hit with multiple supply chain issues, we researched different options available to better meet the needs of our clients. We are proud to have decided to partner with Brother to supply you with the most efficient solutions available today.
CIS Group is a leader in route accounting software, we have been developing and selling software for over 40 years now.  CIS group takes great pride not only in creating the best software solutions to automate your DSD Sales & Delivery operations, but we also partner with the best equipment manufacturers that complement our software solutions and help make your company more efficient.

Brother printers have a reputation for being reliable, easy to use, and fast acting. The range includes everything from entry-level printers to high-volume industrial printers capable of printing up to 16 pages per minute at 300 dpi resolution. Their printers for mobile sales and delivery are compact, rugged, and highly connected for 1-inch to 4-inch labels and receipts from handhelds, tablets, and smartphones. Easily mount or carry to print on the spot.

Deliver unmatched efficiency
Transactions between today's busy route distributors and the retail customers they serve are fast-paced and extremely time sensitive. Quickly and accurately produce invoices, receipts, and other documents in the field and drastically reduce downtime. Add reliable mobile printing to your modern route accounting and direct store delivery (DSD) toolkit today.
Their new range of printers will allow fast and efficient printing of your labels and reports on paper or plastic.
Extreme durability
Engineered to withstand the bumps, drops, and rugged conditions of route environments. Even extreme heat and cold won't affect the reliability of these trusted devices.
Enhanced efficiency
Designed for easy integration and fast connectivity with Wi-Fi®, Bluetooth® technology, AirPrint®, and MFi options, plus compatibility with major operating systems. No messy inks and toners means on-demand printing has never been simpler.
Improved cash flow
Quickly generate the documents and labels you need from virtually anywhere. For faster transactions, less downtime, better productivity, and more cashflow.
Better customer satisfaction
Provide a better, more personal interaction with customers by printing wirelessly, right onsite. Clearly readable, on-demand documentation helps improve accuracy and better meet the needs of today's sophisticated customers.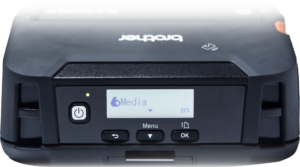 We are pleased to be announcing a new partnership between CIS Group and Brother Printers. Providing you with printing and labeling solutions for the best Route Accounting software solution in the industry.
Connect with us to learn more about our software solutions and the Brother Printers,
Melanie Ladouceur
CIS Group – Marketing Coordinator