The difference between CRM and SFA
What's the difference between CRM and SFA?
Often the two are confused as being the same, but CRM and SFA systems are quite different and intended for different uses. While CRM software is more commonly known, CRM solutions typically only allow you to track and maintain client touchpoints and profile information, whereas SFA solutions provide the tools necessary to execute hands-on tasks related to sales, to help generate revenue and gain market share.
What is a CRM
A Customer Relationship Management (CRM) application is a platform that allows for sales representatives to have all the relevant client information in real-time at the tip of their fingers. To have a successful in-store visit with their client, they need to understand the entire lifecycle of their company's relationship with this client, having different data points in the palm of their hands:
Contact information
Order history, including details on each transaction
Financial accounting reports, including if the account is in good standing or not
A strategic summary of where the company is heading next and where your company is hoping to help them on that transition
Any open customer complaint/claim, and an update on how the company is handling that complaint
Sales meetings may fall short of their full potential if a sales representative doesn't have a thorough understanding of the relationship. CRM solutions make it easy for salespeople to understand the key factors that summarize the relationship.
Features of CRM Platform
Customer profile, such as purchase history, behavior data, contact information, and much more.
Communications tracking
Storing account data and transactions
Monitoring service and support
Analyzing sales and marketing campaigns
What is an SFA
A Salesforce Automation (SFA) application streamlines the sales management process. This includes tracking leads and opportunities through the sales pipeline, sales team and customer activity, communication, and analysis for individual performance evaluation.
Features of Sales Force Automation Systems
Providing goals and targets for sales team members (promotions, priorities)
Recording tasks and lead generation activities
Order taking
Audit of product placement (inventory, distribution, planograms)
Audit of competing products placement
Contact information
Scheduling and tracking appointments
Automated, personalized workflows by customer type
Dedicated to optimizing conversion rates and revenue-generation
Helps improve sales productivity, prioritization, and performance
Choose a powerful solution to better plan, target, execute and analyze your sales activities.
Having access to all the history and statistics of the client within a few clicks helps the reps make better decisions quickly and efficiently, leaving nothing to chance…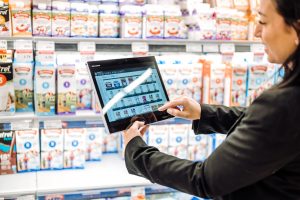 The Reps know exactly what tasks they need to execute and activities they need to complete as soon as they walk in the store, making the most of their visits and increasing productivity significantly.
CRM – is for the prospecting "pipeline"
SFA – is for on-site "order taking" and "task execution"
Most companies don't rely strictly on Sales Force Automation alone. Indeed, the tool goes a long way in ensuring customer satisfaction, as it boosts efficiency in the day-to-day sales performance. But the CRM can step in advantageously to provide the broader view of the customer relationship, helping to foster long-term customer loyalty.
The CIS-Companion® Rep software can handle both CRM and SFA capabilities if so configured, on a tablet or smartphone.
Optimize the activities of your representatives on the road. The Companion® Suite offers user-friendly and intuitive IT tools that help streamline the sales process, improving the experience of your representatives during in-store visits to clients. The efficiency and monitoring of your business will be maximized with management options tailored to your industry.
Contact us to learn more
Sales and Digital Communications Coordinator