How can the CIS-Companion® Rep SFA-CRM solution help you to significantly optimize sales in the pharmaceutical industry?
What is an SFA-CRM?
Firstly, it is an application that greatly facilitates all of a company's processes and the achieving of objectives. Secondly, it gives a clear view of every stage of a sale to give you a better perspective. As well as better control over the process in itself.
That is to say, these tools allow you to easily follow the situation of each customer. Additionally, control each one of your different points of sale, plan future visits, and even prospect for new customers. It is the ideal tool to guide you for efficient decision-making by allowing access to the full set of collected data through dynamic dashboards.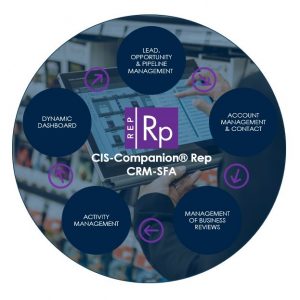 Why use an SFA-CRM in a pharmaceutical company?
Competition in the retail sales industry is extremely aggressive. And companies must find high-performance solutions to stand out from the competition. Salesforce automation is an essential competitive advantage in the pharmaceutical industry, as it allows the enterprise to structure its sales process in order to optimize it.
Pharmaceutical companies are always looking for proven solutions to generate projections and sales reports. This allows them to considerably reduce work for representatives on the road. In conclusion, providing them to focus on more profitable tasks, like prospecting for new customers or consolidating long-term customer relationships.
Why should pharmaceutical companies computerize their processes?
Some companies in the industry still hesitate to modernize their processes and computerize their representatives' paper documents. For instance, they may wish to retain working methods that are far less productive.
Computerizing sales processes brings important changes in the practices of the team, and this is not always simple to manage. With proper change management support, teams adapt quite easily, and the results are impressive.
Optimize the work of representatives
Also, many representatives working in the pharmaceutical industry are faced with recurrent problems in the course of their activities.
Provide for automatic management of customer orders
Remotely keep track of overall sales activities
Determine daily activities, and sequence the priorities
Automation with a tool of choice like CIS-Companion® Rep provides solutions to all these problems, and rapidly optimizes performances once key functionalities are configured so as to personalize each and every step of the sales cycle.
Maximize the return on investment
Pharmaceutical firms also have the impression that the return on investment will not be advantageous. Yet, it is very easy to observe and measure the financial benefits, since a great part of the manual tasks performed by office personnel or directly by your representatives may now be automated. Considerably reducing your human resource expenses, and allowing your employees to concentrate on tasks of higher value to your enterprise.
These issues have a direct impact on the company's profitability, and there are simple ways to reduce that financial impact. The SFA-CRM application, like CIS-Companion® Rep, helps to automate and manage the sales cycle in its entirety and to significantly improves the productivity of the sales team.
Increase the value of the enterprise
Most importantly computerizing your business processes also appreciably increases corporate value, for example in the eyes of potential acquirers. Automated operations, to them, provide a guarantee of de facto control on all the data and information pertaining to your customers and your procedures. Secondly, you'll have an ace up your sleeve if you can offer that guarantee of operational efficiency.
You also significantly reduce the risk of seeing your representatives vanish with greatly valuable information on your customers. It is crucial for today's enterprises to safeguard the intellectual property of the information garnered by their employees, hence the importance of registering it to always retain access to it. It is also a great advantage to be able to facilitate the transfer of information between different departments. Especially when a representative must temporarily be replaced.
Most importantly, automating procedures allows you to better compare different working methods. Moreover, standardize procedures when appropriate, inspired by practices that produce the best results.
How can sales force automation help to optimize the sales of a pharmaceutical broker or distributor?
As already mentioned, an SFA-CRM solution automatically supplies the company with the data required for the indispensable sales forecasts and reports. In short, task automation frees time, that representatives may devote to the most lucrative activities: prospecting for new customers or consolidating customer relationships.
Salesforce automation indeed helps pharmaceutical companies to follow the progress of their daily activities. Such as, collecting the information and generating dynamic dashboards based on the data logged by personnel and on the analysis of history and forecasts through powerful algorithms. It thus contributes to improving the representatives' working culture. But also to the achievement of the most ambitious objectives set by the enterprise.
What are the most advantageous functionalities of the CIS-Companion® Rep SFA-CRM for a pharmaceutical company?
Manage appointments with pharmacists, physicians, and other health professionals in an optimal way;
Record all pertinent information in the interest of your prospects to increase your chances of turning your suspects into customers. It becomes easier to determine the opportunity stage and the best time to contact them again. Managers can also access the notes of representatives, in order to support them in optimizing their sales activities.
Management of the product picture catalog and of new items, in accordance with any chosen structure and hierarchy;
With CIS-Companion® Rep, it is possible to segment customers by store size. SMEs and large retailers show different needs and characteristics. Above all, you will be able to use our software solution to combine pertinent products, follow the prospects. Also, display members in the sales pipeline, evaluate the sales funnel, the sources of prospects. In addition, other details you wish to know about your customers with a few clicks. Dealing with the competition, all these aspects come in useful and converge towards the closing of a greater number of sales.
Fast and efficient in-store business reviews, to analyze opportunities and make the best decisions;
Targeted business reviews are one of the most useful functionalities of our SFA-CRM. Firstly, the detailed information and an advanced query engine allow the analysis of trends. key information, data. Secondly, the procedures are chosen to improve your sales efficiency. Regardless, whichever representative is serving the customer at any point, get up-to-date information via the application, thanks to the real-time sharing of data.
Connectivity with all ERPs
Our software is built to easily connect to all commercial or custom ERP systems, which facilitates data exchange and ensures optimal performance. As a matter of fact, through CIS-Companion® Office, our middleware integrated with CIS-Companion® Rep, you will have access to efficient data sharing between the administration and the mobile users.
In conclusion, if you wish to maintain your pharmaceutical activity ahead of the competition, you must put in place a reactive and flexible SFA-CRM application, that allows you to monitor the growth of your enterprise.  Above all our CIS-Companion® Rep solution will prove as a tremendous asset to propel your enterprise. Do not hesitate to contact me to obtain more information.
Mathieu Adam
Sales Director Canada