Groupe Vausco Signs with CIS Group and is connected to its operations at all times using CIS Bus Charter Web solution.
Autobus Vausco, located in Lac-Mégantic, has chosen the Web solution CIS Bus Charter, in order to simplify its daily operations.
Groupe Vausco was looking for an automation software solution that would help them better manage their operations and provide the best experience to their customers. After thorough research, they chose the CIS Bus Charter automation system, because it provides everything they need, accessible from anywhere through its web interface, with an automated dispatching process, invoicing capabilities, and many other features. Now that they have chosen CIS Group's solution for the management of their bus fleet in Quebec, their employees are able to easily access CIS Bus Charter just by logging into the internet. This allows them to be more efficient when responding to customer requests. "With this new technology implemented, Groupe Vausco can focus on providing reliable transportation services at all times" – says Éric Tessier, president and CEO of CIS Group.
CIS Group Web solution has been chosen by Groupe Vausco for all their bus transportation needs.
Choosing a web solution significantly reduces hardware requirements. It also ensures access for users at any time of day, and from any location with an internet connection – for timely management of their charter vehicle fleet. Once a customer order is received and a quote produced, the CIS Bus Charter software retains and shows all the important information pertaining to reservations, payments, and drivers' schedules, so nothing is overlooked.  Data is never lost, and never needs to be entered twice, eliminating a source of errors – and all this without cumbersome paperwork.
Groupe Vausco's fleet is now connected to the CIS Bus Charter automation software at all times, through the web interface.
The platform clearly showed as the opportune choice, as it offers the complete set of features to support the whole sequence of operations, among which:
Customer and contact management
Travel type management
Management of travel quotes
Management of travel confirmations
Dispatch management
Trip return management
Billing management
Management of driver pay data
Report generator
With complete access to their data at all times, Groupe Vausco can focus on providing the best service possible to their passengers. Groupe Vausco is well set up for success in the bus transportation industry.
With convenience comes efficiency: dispatchers can rely on a planning screen that shows them all theirs trips at a glance – with color codes indicating their status, and full details of each trip upon a single click. Quality of service is also reflected in the production of documents: professional-looking quotes, contracts and invoices are produced automatically, in printed or electronic format, and can be instantly transmitted to customers via e-mail.
CIS Group provides innovative technology for today's industry leaders
CIS is a leader in the field of technology for the transportation industry, and develops solutions that help companies be more efficient, productive, and profitable. Active on the Canadian, US and Caribbean markets, CIS Group offers best-in-class software solutions to meet your business needs at each step of your operations, from sound quote rating and efficient resource assignment to errorless billing, and more.
CIS Group is proud of working with Groupe Vausco on the finishing touches to our innovative web solution, CIS Bus Charter.
The successful implementation gives Groupe Vausco all the tools that contribute to the quality of service, and the solution also increases their mobility, allowing them to monitor their operations from anywhere. With automated processes and invoicing capabilities, via an easy-to-use interface available online, Groupe Vausco is well set up for success in the bus transportation industry. Stay tuned, as we will announce the official launching of our NEW web-based solution shortly.
Sign up for our latest news
About Groupe Vausco
The Vausco Group was born from the desire of two employees to continue the work of the Dostie Family and leave their mark in the community of the MRC du Granit. The experience of its leaders has enabled the Group to improve services in terms of passenger transport, diesel mechanics and general mechanics. Since its acquisition in March 2016, it expanded its territory to now cover the transport of people from Sherbrooke and Magog to all destinations in the country.
They have also improved their mechanical services to meet the needs of businesses in their sector. Whether for mechanical inspections, for maintenance and repair, or for tires of all types, they will be happy to respond to your needs. Find out about their maintenance services for your fleet. You can count on their dynamic team, which over the years has acquired the skills and experience that make the Group a leader in its industry.
The Vausco Group is comprised of three divisions: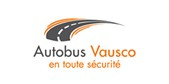 Autobus Vausco Inc.
Specialized in luxury charter transportation

Vausco Transport Scolaire
Specialized in school transport

Vausco Centre de service
SAAQ Agent and specialized in general mechanics
for heavy and light vehicles.
The strength of Groupe Vausco lies in their team spirit, the safety of their transport, the courtesy of their employees, and the reliability of their vehicles.
Melanie Ladouceur
CIS Group- Marketing Coordinator