CIS Group will be at the FTA Congress
We are pleased to be back at the annual Congress of the Fédération des transporteurs par autobus, on June 26 to 28 at the Manoir Saint-Sauveur.
The CIS Group team will be on hand to discuss with you the latest technological trends in the industry, as well as the latest solutions developed by CIS Group, with on-the-spot demos.
Discover our solutions dedicated to passenger transportation that allow for efficient management of travel planning, including the assignment of your drivers, the payroll, accounting, and garage management.
Discover CIS-Bus Charter now with a 30-day free trial for 2 users
CIS-Bus Charter – The Web application takes care of all the administrative and operational aspects specific to charter transport, supporting you at each stage of your service delivery.
CIS-Bus Circuit – The multiuser application to manage school, urban, and interurban transport activities.
AdminExpress is a complete software solution for carrying out modern accounting through the web.
Mecano – The application that gives you the complete overview on the costs, performance, and preventive maintenance of your vehicle fleet.
Pay – The application that covers all aspects of the drivers and administrative staff payroll.
Practice your slap shots for the golf tournament!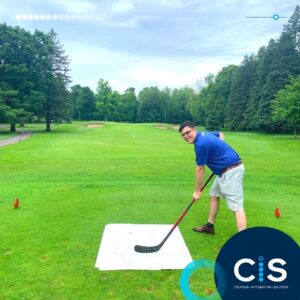 Julie and Mona will be at the seventeenth hole and want to see who will shoot the golf ball the furthest with a hockey stick.
The CIS team is looking forward to connecting with all the participants at the FTA congress.
Inventory management, warranty management, accounting, payroll management, charter and school dispatching management, Power BI business intelligence, garage task management, PEP inspection management and much more is awaiting you!
About the Fédération des transporteurs par autobus
The mission of the Bus Carriers Federation is to promote the safe and efficient mobility of people and thus contribute to the image, increase in value, and stability of public transportation.  https://www.federationautobus.com/en