CIS Group celebrates the 100th anniversary of Fromagerie Gilbert
On March 31, the Chambre de commerce et d'industrie de Saint-Joseph-de-Beauce marked and celebrated a century of existence for Fromagerie Gilbert, during a lively wine and cheese happy hour.
CIS Group, as a proud partner, was happy to take part in this important event. We wished to extend our most sincere congratulations to our good friends at the Fromagerie on this centennial, and we add our best wishes for enduring success to this flagship of the Beauce region.
ABOUT FROMAGERIE GILBERT
Founded one hundred years ago in Saint-Joseph-de-Beauce,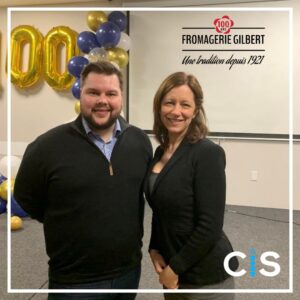 Fromagerie Gilbert specializes in the production of hard, unripened cheese. Thanks to the work of over 40 employees, its products are available throughout the regions of Beauce, Thetford, Bellechasse, Lotbinière, Lévis, Québec and Bas Saint-Laurent.
"Thank you for choosing CIS Group as a trusted partner for your mobile software solutions. We look forward to a long and mutually beneficial partnership with Fromagerie Gilbert." – Mélanie Rock Sales Coordinator, CIS Group.
Photo:
From left to right in the picture above:  Gaétan Laplante, president, Guylaine Giguère, shareholder, Jimmy Poulin, general manager, Mélanie Rock, from CIS Group, Réjean Giguère, vice-president, and Pierre Roy, shareholder.